Extruded Aluminum Helps Tesla's Model S Achieve Record in Auto Safety Testing




(Wauconda, Illinois; August 23, 2013) -- Tesla Motors' Model S set new records in safety testing conducted by the National Highway Traffic Safety Administration (NHTSA) thanks, in part, to the abundance of extruded aluminum used in the vehicle. The Model S scored a 5-star safety rating overall and in every subcategory in which the car was tested.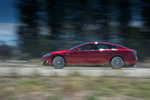 Tesla Model S
The Model S features an all-aluminum body and makes use of many sophisticated extruded aluminum parts in its chassis, suspension, battery-box and crash management systems. In announcing the results, Tesla noted in particular the vehicle's performance in NHTSA's side pole intrusion test, considered to be one of the most severe challenges to structural integrity. The Model S "preserved 63.5% of driver residual space" as result of "nesting multiple deep aluminum extrusions" in the car's side rail to absorb impact energy.
"It's extremely gratifying to see this aluminum-intensive vehicle again score record-breaking performance," stated Rand Baldwin, AEC President. "These crash test results, on top of the recent top score by Consumer Reports and last fall's multiple "Car of the Year" awards by the automotive press, demonstrate the contribution that extruded aluminum can make to safe, efficient, and exciting vehicles."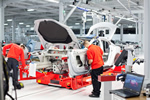 Tesla Production
Aluminum extrusions have been gaining increased use in new vehicles as car builders strive to substantially improve fuel efficiency while preserving the safety, performance and amenities that U.S. car buyers demand. A recent market study by Ducker Worldwide projects that per-vehicle use of extruded aluminum is likely to double by 2025.
"Over this past year, we have seen exciting new extrusion applications in many new vehicles - in a variety of market segments," noted Baldwin. "It's no longer just the specialty cars, but many mass-market vehicles that are incorporating extrusion. In every case, we see lighter weight and improved fuel efficiency - with improved handling and performance in most situations. AEC and its member extruders are excited about these developments and our contribution to many of these new applications."
To see Telsa's original announcement, click on http://www.teslamotors.com/about/press/releases/tesla-model-s-achieves-best-safety-rating-any-car-ever-tested
About AEC
The Aluminum Extruders Council (AEC) is an international trade association dedicated to advancing the effective use of aluminum extrusion in North America. AEC is committed to bringing comprehensive information about extrusion's characteristics, applications, environmental benefits, design and technology to users, product designers, engineers and the academic community. Further, AEC is focused on enhancing the ability of its members to meet the emerging demands of the market through sharing knowledge and best practices. For more information visit www.AEC.org.
###
For more information please contact:
Nancy Molenda, Communications Manager
nmolenda@tso.net
847/526-2010 x227