AEC Presents Volunteer of the Year Awards
(Wauconda, Illinois; April 8, 2013) -- Every year, the Aluminum Extruders Council (AEC) recognizes one or more individuals for their outstanding service and achievements as an AEC volunteer. Two dedicated volunteers were recognized during the Volunteer Recognition Ceremony at the Aluminum Extruder Council's Annual Meeting last March. Two Volunteer of the Year awards were presented.
Gary Jones, Operations Manager for ILSCO Extrusions, Inc. in Greenville, Pennsylvania, was recognized with one of the two Volunteer of the Year Awards for 2013. Jones was a longtime member of the AEC Technical Services Committee and was integrally involved in helping the Council to reach a reasonable compromise that continues today for the heat treatment standard issue known as "Footnote 9". In announcing the award, outgoing Chairman Duncan Crowdis said of Jones: "As a key member of AEC's Industry Standards Team, Gary has served for over a dozen years as a capable and staunch advocate for our aluminum extruders, assisting the Council and the industry in resolving a number of very sensitive and technically complex issues."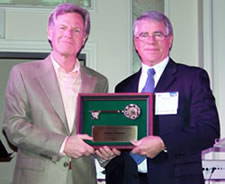 Scott Moffatt (left) of PPG Industries accepts the Volunteer of the Year Award for Hank Lowman's family from AEC Chairman Duncan Crowdis
The second Volunteer of the Year Award was presented posthumously to Henry "Hank" Lowman, formerly of PPG Industries, Inc. in Springdale, Pennsylvania. Lowman was a member of the Council's Finishing Committee and was actively involved in developing the educational programs for the AEC Finishing Workshops. Duncan Crowdis told the audience that Lowman was someone who would light up a room and always be one to make a joke. "He was very supportive of the Council and demonstrated that support in many ways, including through PPG sponsorships over the years," said Crowdis. "Hank will be missed, but I am happy that we can honor his memory with the Volunteer of the Year Award." The award was accepted on behalf of Lowman's family by Scott Moffatt, Director of Marketing at PPG.

About AEC
The Aluminum Extruders Council (AEC) is an international trade association dedicated to advancing the effective use of aluminum extrusion in North America. AEC is committed to bringing comprehensive information about extrusion's characteristics, applications, environmental benefits, design and technology to users, product designers, engineers and the academic community. Further, AEC is focused on enhancing the ability of its members to meet the emerging demands of the market through sharing knowledge and best practices.
###
For more information please contact:
Nancy Molenda, Communications Manager
nmolenda@tso.net
847/526-2010 x227