Aluminum Extruders Council Launches Aluminum Extrusion Manual, 4th Edition
(Wauconda, Illinois; April 16, 2013) -- The Aluminum Extruders Council (AEC) has released an important new resource for designers, engineers, specifiers, academics and other aluminum extrusion enthusiasts with the new Aluminum Extrusion Manual, Fourth Edition. Now available online, free of charge, at www.AECmanual.org, the Manual is a comprehensive one-stop reference to help product designers and engineers better understand aluminum extrusion applications, design considerations, alloys, finishing and more.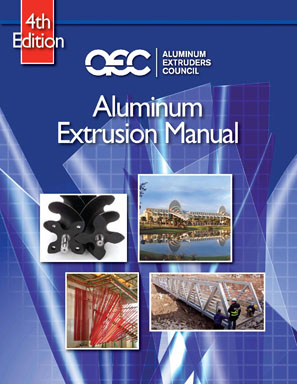 The updated Aluminum Extrusion Manual offers a wealth of information with more than 150 pages of material, including:
An overview of the extrusion process, plus a brief overview of typical applications and aluminum extrusion attributes
Important extrusion design considerations - from alloy performance and selection to optimizing profile designs, to finishing, fabrication and assembly
More than 20 charts and tables, 75+ diagrams, plus many process, product and application photos
References and/or links to other important extrusion design resources, including standard tolerance tables and an extensive glossary.
"The 4th edition of the Aluminum Extrusion Manual provides the product designer and engineer a better understanding of the aluminum extrusion process and the design tips needed to optimize their concepts," said Craig Werner, Owner and President of Werner Extrusion Solutions in Lake Forest, Illinois and Chairman of the Council's training and education initiative. "The Manual will be an indispensable resource for designers, engineers, students, and those seeking to create more effective products by using extrusions."
The Manual is divided into 9 sections:
Advantages of Aluminum Extrusions
Extrusion Applications
The Extrusion Process
Finishing
Extrusion Dies
Extrusion Design
Alloys
Tolerances
Glossary: Terms & Definitions
Each section contains a wealth of information on the topic illustrated with charts, tables, and photos, along with links to other relevant data to provide a comprehensive reference resource. To view and download a copy of the Aluminum Extrusion Manual, Fourth Edition, visit www.aecmanual.org.


About AEC
The Aluminum Extruders Council (AEC) is an international trade association dedicated to advancing the effective use of aluminum extrusion in North America. AEC is committed to bringing comprehensive information about extrusion's characteristics, applications, environmental benefits, design and technology to users, product designers, engineers and the academic community. Further, AEC is focused on enhancing the ability of its members to meet the emerging demands of the market through sharing knowledge and best practices.
###
For more information please contact:
Nancy Molenda, Communications Manager
nmolenda@tso.net
847/526-2010 x227