Buyers' Guide
2014 Buyers' Guide
The 2014 print edition of the AEC Buyers' Guide is now available! Request your FREE copy today!
New 2014 Digital Edition is Here!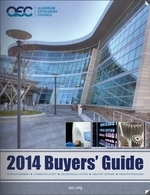 The essential aluminum extrusion industry resource, the AEC Buyers' Guide, is available in electronic flipbook format for quicker and easier access!
Follow the link on the cover to view the online digital edition now!
Thousands of designers, engineers, material specifiers, architects and others have already discovered the tremendous value of the AEC Buyers' Guide. You will too!
Comprehensive Directory
The latest contact and capabilities information supplied by AEC members are included. Inside you'll find essential information for Extruder Members on press sizes, plant locations, types of profiles produced, finishing and mechanical capabilities, and much more. In addition, the Guide includes complete listings for Supplier and Producer Members.
Value-Added Content
Adding to its value, editorial features covering sustainable, innovative uses for extruded aluminum, attractive photos, and interesting facts about aluminum's advantages are scattered throughout the Guide. The new flipbook format offers simple navigation and convenient links throughout and for ease of use, you can download a copy of the Buyers' Guide right to your own desktop.